Private Jet Charter – United Arab Emirates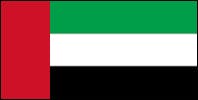 Private jet charter gives you a wider choice and can help save time, allowing you to take-off or arrive closer to your destination. Get a quote from PrivateFly for the following airports that can cater private jet clients:
Abu Dhabi Bateen Airbase
Abu Dhabi International Airport
Al Ayn International Airport
Al Fujairah International Airport
Al Zarqa Island Zirku Airport
Das Island Airport
Dubai International Airport
Ras Al Khaimah International Airport
Sharjah International Airport
Umm Al Quwain Airport
.
Get an estimate in seconds online with private jet hire flights to and from United Arab Emirates, and quotes online or call the PrivateFly team for a quote, advice and further information on +44 1747 642777.
United Arab Emirates
Capital – Abu Dhabi
Languages – Arabic
Population – 7,900,000
Size – 77,700 square kilometres
Monetary Unit – 1 Dirham = 100 fils