Corporate jet shuttles - private jet charter
If you need to arrange regular, point-to-point air transport for your team between corporate headquarters or locations, PrivateFly's experts are here, to provide tailored advice and quotes - whether for a short term arrangement or over a longer period.
Call our experienced team (24/7) on 020 7100 6960 to discuss your corporate jet shuttle needs.
Safety, efficiency & peace of mind
A dedicated, private air shuttle service between key corporate locations is an invaluable, and increasingly popular tool for businesses. This allows your key team members who need to travel regularly to do so efficiently, conveniently and with the utmost regard for their health, safety and welfare.
With a private jet corporate shuttle, your group will have access to a dedicated private aircraft of your choice, scheduled for your required itinerary, helping you to optimise business efficiency and to minimise your team's time away.
Your team members board the aircraft from a private terminal (FBO), arriving just minutes before each flight. There are no crowded airport terminals to navigate, or long security queues.
This reduces exposure to other people, outside of your group - protecting your team's health, welfare and security. They can also travel discreetly, preserving company confidentiality, and allowing important meetings and discussions to take place onboard the aircraft.
Flexible duration
Unlike fractional ownership or jet card programs which require annual subscriptions and long term commitment, an on-demand charter booking for a corporate air shuttle can be arranged for the duration that you need.
So if you are looking to arrange a short term alternative to airline travel, or if you want the ability to change your plans after an initial period of time, you can book only for the time period you need.
Our corporate shuttle aircraft fleet
Whatever your group size or route, PrivateFly provides access to a global fleet of accredited private aircraft, of all types and sizes.
Light and midsize jets seat 4 to 8 people such as the Nextant 400XTi, Embraer Phenom 300 or Citation XLS. These smaller jets are fast and efficient, perfect for small groups on flights of up to 2 - 3 hours.
Super-midsize or large cabin jets such as the Challenger 350, Legacy 500 or Legacy 600 are a great choice for larger groups of up to 13 people, on longer flights of up to 5 - 6 hours.
For large group travel, a range of private airliners, such as the Boeing 737-500 VIP, are available. Arranged in VIP seated row format, these are ideal for groups of up to 50 - 100 people.
In addition to being integrated with a large number of accredited charter operators, we have priority access to a range of exceptional, family fleet aircraft, via our parent group Directional Aviation.
Corporate jet shuttle itineraries
PrivateFly works with corporate clients across many sectors, including finance, pharmaceuticals, automative, sport, entertainment, and oil & gas.
Whether it's travel between office locations in two different European cities; or regular trips to factories or remote field locations, our team will work with you to provide the right aircraft solution to fulfil your itinerary and schedule.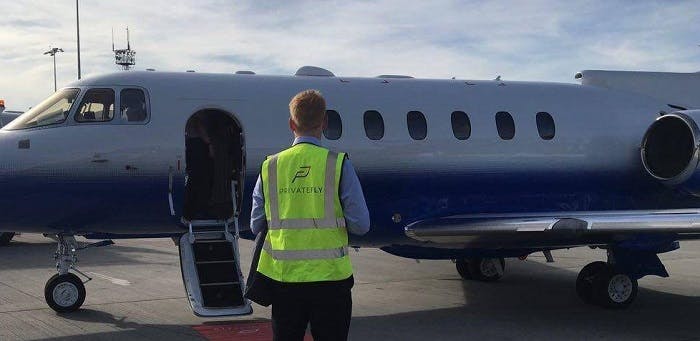 Scheduling & managing your corporate jet shuttles
Our Client Services team are here to take care of every detail of your regular private shuttle flights, from timing changes, weather checks and passenger lists, to catering requests and ground transport requirements.
In addition our technology platform allows us to give our corporate jet shuttle clients access to a booking tool, making it easier for a representative of your company to manage the passenger booking logistics for each flight.
Why choose PrivateFly?
PrivateFly is owned by Directional Aviation, one of the largest private aviation groups in the world. This gives us - and our clients - a number of benefits including financial stability; competitive market pricing thanks to our greater buying power; and priority access to group-owned family fleet aircraft.
Our industry-leading group safety culture goes significantly beyond other brokers. Our Group Safety Officers, in both Europe and the US, oversee all our supplier relationships, working only with aircraft operators that adhere to the highest standards of safety and service. We are also an Argus Certified Broker and Wyvern Broker.
We have a large number of reviews from happy clients, and many new ones come to us as a result of a recommendation. We're extremely proud of the 700+ reviews of our service, which are collected and verified via the independent platform Trustpilot. Read our client reviews.
Deep industry experience and expertise: Over 12+ years, we have gained a deep understanding of the private aviation industry, and the needs of corporate clients.
Our multilingual, expert team is available 24/7 and ready to respond immediately to your needs. They know aircraft inside out so can help you weigh up the best options in a truly informed way. Our Client Services team manage every aspect of the flight from start-to-finish, including the coordination of all parties involved in the flight.
Talk to our specialist team
Our expert team (24/7) is available to discuss your corporate travel requirements, and to provide tailored advice and quotes. Call us on 020 7100 6960 or contact us.