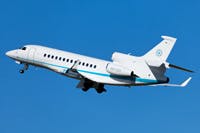 Dassault Aviation are world renowned for their distinctively shaped Falcon tri-jets.
The French aviation giant incorporated systems and technology used in its high performance fighter jets, to give the Falcon business jets a unique level of strength, durability and cutting edge technology.
Our team of experts are available 24 hours a day on +44 (0)20 7315 4397 to recommend the best aircraft for any charter flight or search for instant estimate prices from your local airport using our flight search:
History | Today's Falcon Family | Falcon Facts | Famous Falcons | Watching Falcons | How to book a Falcon
Today's Falcon Family
The current Falcon family ranges from the twin-engined Falcon 2000LX to the ultra-long range Falcon 7X tri-jet, and the brand new Falcon 8X. Here's our guide to picking the best Falcon for your flight.
Falcon 8X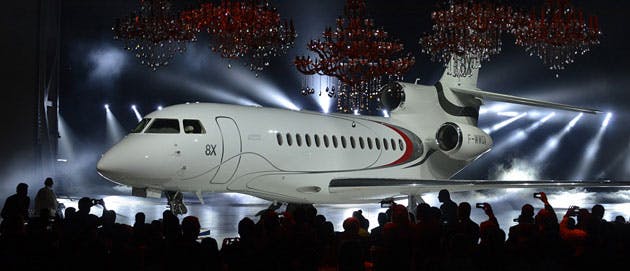 In 2014 Dassault unveiled the newest family member, the Falcon 8X. The aircraft performed its maiden flight in 2015, and certification by both the FAA and EASA is expected in the summer of 2016, with deliveries quickly following.
The Falcon 8X is an upgraded version of the current flagship 7X, with a 1 metre longer fuselage and 450nm more range - while still retaining the 7X's flexibility to land at smaller airports. Dassault took the Falcon 8X on a global tour during its certification process, to get feedback on its interior configurations and cabin finishing.
Falcon 2000 & variants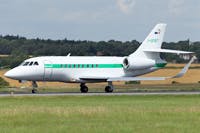 The original Falcon 2000 is a twin-engine, transcontinental jet, first launched in 1994 and Dassault has followed with a number of upgrades over the years, offering enhanced avionic performance on the aircraft's range and agility. In order of their launch these are: The Falcon 2000EX; the Falcon 2000EX EASy; the Falcon 2000DX; the Falcon 2000LX; the Falcon 2000S; and most recently the Falcon 2000LXS, which replaced the LX. 
The latest Falcon 2000 models have undoubtedly reshaped the medium size private jet category with a new level of high performance. The most recent, the 2000LXS, combines the short-field performance of 2000S, with the 4000nm range of the LX - giving the best of both worlds.
So it can cover routes such as Paris to New York, or London to Beijing, and is capable at landing at more airports that its rivals, including London City Airport. 
With a large and spacious cabin, the Falcon 2000LXS is able to seat 8 - 10 passengers, depending on cabin configuration.
Falcon 900LX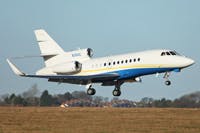 Significantly upgraded and improved from earlier models, the Falcon 900LX now features a 4,750nm range, further than any other medium range private jet. The distinctive tri-jet design is one of the most versatile in its class, landing at slower and safer speeds, using 50-60% less fuel than some previous Falcons.
The Falcon 900LX's supreme aerodynamic wing achieves significant levels of efficiency, and with high-speed blended winglets fitted to the end of each wing, drag on the Falcon 900LX is kept to an absolute minimum. 
Powered by three-engines, the Falcon 900LX provides added comfort and confidence for passengers on long-haul oceanic routes.
Falcon 7X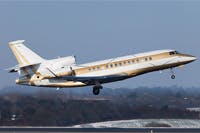 The Falcon 7X is Dassault Aviation's flagship aircraft. A complete fly-by-wire redesign, the Falcon 7X is one of the most technologically advanced business jets ever to be produced.
With a range of up to 5,950nm, the Falcon 7X's impressive endurance capabilities can connect passengers from London to Singapore, Paris to Los Angeles and New York to Dubai at cruising speeds of up to Mach 0.90.
Slower landing speeds enable the Falcon 7X to make steeper approaches and land on shorter runways. The Falcon 7X is certified for operation at London City Airport, allowing business travellers to fly directly into the heart of London.
History
Making its first flight in 1963, the Falcon 20 was Dassault Aviation's debut business jet aircraft. A total of 473 Falcon 20s were built, with 35 modified Falcon 200s later produced.
In 1970, Dassault launched the smaller Falcon 10 aircraft, a scaled down version of the successful Falcon 20. Only 226 aircraft were manufactured and only a handful remain flying in Europe today.
Taking to the skies in 1984, the Falcon 900 was Dassault's first long range jet. The unique tri-jet design became an iconic symbol for Dassault who went on to develop several modified versions of the Falcon 900, competing with Bombardier's Challenger 604 and Gulfstream's G4.
With a key role at the Advisory Council for Aeronautical Research in Europe (ACRE), Dassault Aviation are committed to the European Union's 'Clean Sky Program', seeking development of new technologies to reduce noxious emissions and jet engine noise levels over the next decade.
Falcon Facts
Falcon 10
Falcon 20
Falcon 50
Falcon 2000LX
Falcon 900LX
Falcon 7X
Seats
8
9
9-10
10-12
10-12
13-14
Range
2,200nm
2,450nm
3,500nm
4,000nm
4,750nm
5,950nm
Speed
M.80
M.82
M.82
M.86
M.87
M.90
First Flight
1970
1963
1976
2009
2010
2005
Average flying cost
per hour
£3 600
$5 435
€4 198
£3 400
$5 133
€3 965
£4 250
$6 416
€4 957
£4 931
$7 444
€5 751
£5 396
$8 146
€6 293
£5 432
$8 200
€6 335
Aircraft Cost
$10 000 000
$20 000 000
$30 000 000
$35 000 000
$39 000 000
$50 000 000
Famous Falcons
I-FFRR – Renzo Rosso, Fashion Designer
N999BE – Bernie Ecclestone, owner of Formula One
LX-MES – Roman Abramovich, Russian Investor
M-CELT – Dermot Desmond, owner of Celtic Football Club 
N722AZ – Francis Ford Coppola, Hollywood Film Director
M-SAIR – Eddie Stobart, Haulage Company
Watching Falcons
Still not sure which Falcon to charter?
For advice on chartering a Falcon for your private flight call our team of experts +44 (0)20 7315 4397 24 hours or contact us to recommend the best aircraft for any charter flight.